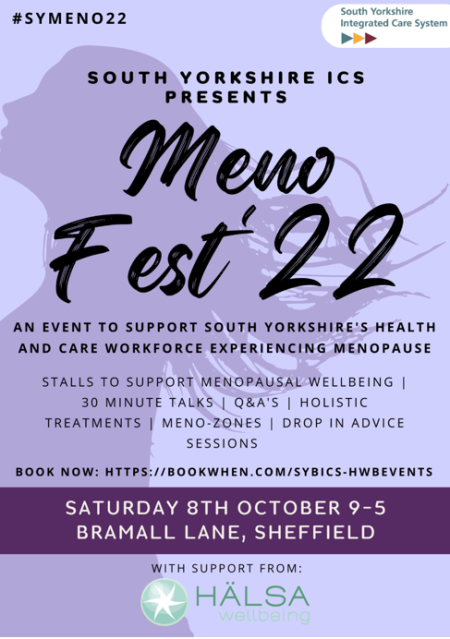 A first ever Menopause festival – 'Meno Fest 22' – has been launched to support health and care staff and encourage workplaces to become menopause friendly. Nearly 34,000 health and care staff across South Yorkshire are going through the Menopause and often additional support and awareness could make a difference to those colleagues.
The festival, held on Saturday 8 October at Bramall Lane Conference Centre Sheffield, is part of NHS South Yorkshire's commitment to increase the awareness of Menopause and highlight the support available for the NHS and Social Care workforce across the region. With support from trained menopause advocates by Henpicked 'Menopause in the workplace' programme, the day will have a range of speakers from menopause advocates and other specialists and will host a variety of stalls from local businesses.
Brigitte Kaviani, Head of Health and Wellbeing at NHS South Yorkshire ICB, said "We are so excited to be able to host this event in South Yorkshire which will help in raising the awareness of menopause.
"This is a very important topic to be talked about in the workplace which will change cultures to become menopause friendly. We have worked closely with Henpicked 'Menopause in the Workplace' and Hälsa Wellbeing to create an inclusive day for our staff, line managers and their partners and friends to attend."
Supported by Hälsa Wellbeing, a forward-thinking wellbeing services organisation, the festival aims to provide open discussion and support for women who are moving through menopause. Drop-in support sessions will be running throughout the day alongside key-note speakers who will cover a range of topics such as eating well during the Menopause, what is brain fog and what can you do about it.
The festival will also include stalls from a range of local suppliers and Menopause supporting organisations. These range from The Body Shop, Tropic Skincare, Sheffield Occupational Health Advisory Service (SOHAS) and Handmade in Nether Edge.
Emma Avhede, Managing Director of Hälsa Wellbeing, said "One of the subjects in the wellbeing field, which has until recently, been globally over-looked, is the `hot` topic of Menopause. There are now important Legal, Business, Demographic & Social Responsibility aspects to consider – making this a priority focus area for many Organisations.
"We are proud to support NHS South Yorkshire with their Menopause Festival, which will raise awareness, provide support and give those attending time and space to focus on their own self-care."