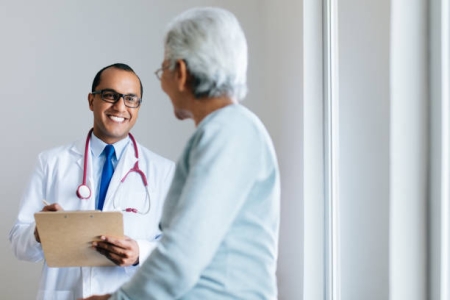 GP service extended across Sheffield
Local GP practices are working together to offer patients evening and weekend appointments in Sheffield.
The new enhanced service will be introduced on 1 October and patients will be able to see a GP, nurse or other health professional at a time which is convenient for them.
How can I get an appointment?
You will be able to book appointments outside normal practice hours between 6.30pm and 8.00pm Monday to Saturday in

11

locations across the city.

Appointments can be made by phone, going into the practice, or through an online form on the practice website.

Services will include vaccinations, health checks and screenings.
GPs working together
GPs are working together in 'primary care networks (PCNs) to offer this service.
PCNs are small groups of GP practices that work together in different ways to provide services for the patient need in their area. There are 15 PCNs in Sheffield.
Patients will be able to get an appointment at the dedicated 'hub' in their PCN, which will either be their own practice or one close by.
Hillsborough, Townships 2 (Woodhouse area) and West 5 (Broomhill, Walkley, Crookes areas) PCNs will deliver the service themselves. Patients at the following PCNs will go to one of the practice 'hubs' in their network:
Hillsborough Primary Care Network
Tramways Medical Centre

Far Lane Medical Centre

Dykes Hall Medical Centre
Townships II
Stonecroft Medical Centre

Charnock Health Primary Care

Jaunty Springs Health Centre

Woodhouse Health Centre

Richmond Medical Centre
West 5
Walkley House Medical Centre

Broomhill Surgery

Manchester Road Surgery

The Crookes Practice

Selborne Road Medical Centre
Primary Care Sheffield
Primary Care Sheffield is delivering the service for the other 12 PCNs in the city. Appointments will be available at the following practice site 'hubs' and patients will go to the 'hub' in their PCN.
Porterbrook Medical Centre

Darnall Primary Care Centre

Jordanthorpe Health Centre

Crystal Peaks Medical Centre

Burncross Surgery

Fairlawns Medical Centre

Flowers Health Centre

Norwood Medical Centre
Details of the PCNs for the practices above, including all other practices in each PCN can be seen on the Primary Care Sheffield website here: Enhanced Access - Primary Care Sheffield
Further information
For more information you visit your own practice website or ask at your practice reception.
This service is also being introduced across the whole of England from 1 October.