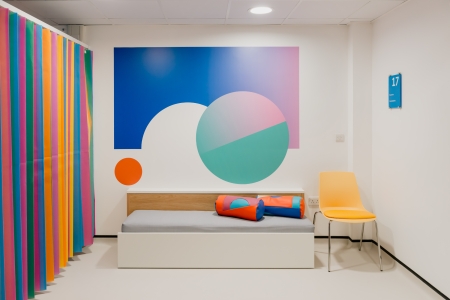 Sheffield Children's NHS Foundation Trust and The Children's Hospital Charity are delighted to announce the completion of a new state-of-the-art ward for patients undergoing treatment for cancer, leukaemia and blood disorders.
The new ward is bigger and brighter, with improved spaces for parents to stay with their children and a dedicated playroom and schoolroom at the heart of the ward.
More patient bedrooms will have en-suite facilities as well as a view of the park opposite the hospital, helping patients feel connected to the outside whilst they are getting better.
They also include brand new televisions, more storage space and added extras to help make it feel more like home. These include reading lights for patients and parents, as well as temperature controls for extra comfort.
A new purpose-built break-out space has also been created for teenagers for the first time. It follows a fundraising appeal to the transform the facilities, which was completed by last summer's Bears of Sheffield sculpture trail.
Dr Dan Yeomanson, Consultant Paediatric Oncologist at Sheffield Children's Hospital, said: "We have all been moved by the support from the public to transform the environment in which we deliver our care. Working on the new ward feels amazing, and families comment on how great it is all the time- it's almost hard to remember what the old ward was like.
"We are hugely grateful to The Children's Hospital Charity, everyone at Sheffield Children's and for the generous support of the public which ensured we realised our dreams within such a short timeframe."
The new ward also features bespoke artwork for patients and families to interact with and enjoy thanks to the work by Artfelt, The Children's Hospital Charity's art programme which transforms walls and spaces throughout Sheffield Children's.
The concept and visual design of the ward was informed through creative workshops with patients, families and staff, and was delivered by creative studio Field and award-winning artist Christopher Jarratt.
The work encourages patients staying on the ward to explore and create their own imaginary dream worlds, whether through active play, passive view finding, paint and vinyl scenes or original artworks.
The new ward has significance for families far beyond Sheffield. The ward sees between 90 and 100 patients every year from across South Yorkshire, Lincolnshire and Derbyshire, as well as undertaking bone marrow transplants from further afield, including Nottingham, Northampton and Leicester.
The redeveloped facilities will help provide comfort and make things easier for families staying on the ward during their care, which can last up to a year.
The team on the Cancer and Leukaemia ward at Sheffield Children's provide some of the best childhood cancer care in the world, with the hospital's five-year survival rate matching the best figures reported by countries internationally, including Australia and Canada.
Ruth Brown, Chief Executive of Sheffield Children's NHS Foundation Trust, said: "It's amazing to see the transformation of our new ward. The children who need Ward 6 often need to stay with us a long time for their care and treatment – sometimes more than a year – so the environment makes so much difference to them.
"We have amazing colleagues supporting children and their families and this work brings the space and facilities to the same high standard.
"We are so grateful to The Children's Hospital Charity and its supporters for helping us deliver this amazing new space."
John Armstrong, Chief Executive of The Children's Hospital Charity added: "From sharing stories and inspiring others, to baking cakes and jumping out of plane, sponsoring a snowflake at Christmas, and of course supporting the Bears of Sheffield, we've come together as a community- as businesses, trusts, schools, individuals and families for Sheffield Children's.
"It is the incredible generosity of the community that means, despite a global pandemic and all the uncertainty it brought, today we can reveal our new Cancer and Leukaemia ward.
"Your support has meant that we can provide world-class treatment in world-class, child-friendly facilities. On behalf of everyone at the Charity, I'd like to say a heartfelt thank you for your support."
Following the completion of the new Cancer and Leukaemia ward, attention now turns to the Major Trauma Centre at Sheffield Children's, with fundraising underway for a new helipad.
Currently, air ambulances land in Weston Park where trauma patients are then stretchered across a busy road under a police escort before entering the Emergency Department at Sheffield Children's.
The new helipad will reduce the delays for patients who need urgent critical care from across South Yorkshire, Derbyshire and Lincolnshire.
To find out more about The Children's Hospital Charity's work transforming Sheffield Children's, please visit: www.tchc.org.uk