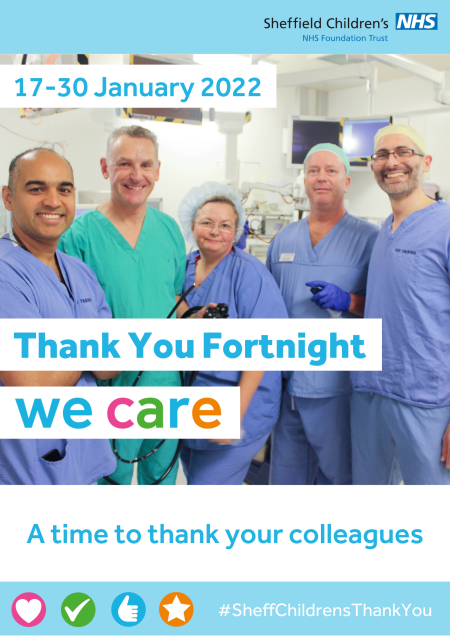 The Communications team at Sheffield Children's has been shortlisted in the 'Communications Team Health and Wellbeing Award' category of the national NHS Communicate Award.
The category highlights the contribution that communications makes to the successful implementation and delivery of health and wellbeing initiatives and programmes for NHS colleagues.
The Trust's 'Thank You Fortnight' campaign in January 2022 was selected as a successful health and wellbeing initiative which made the shortlist of eight.
Ruth Brown, Chief Executive of Sheffield Children's NHS Foundation Trust, said: "This campaign provided a chance for me and the Trust Board and 4,000 people across the organisation, to say a huge thank you to colleagues and raise their spirits.
"After a tough couple of years during the COVID-19 pandemic we wanted to start the new year with a positive focus, to celebrate the amazing people within our Trust and thank them for the incredible things they do. Our communications team brought that ambition to life brilliantly.
"We aim for Sheffield Children's to be a brilliant place to work and activities like the 'Thank You Fortnight' are a sign of how the Trust invests in all its colleagues and their health and wellbeing."
The fortnight's activities included:
A special video message from the Chief Executive to launch the campaign
Free drinks, treats and snacks at all Trust sites with a treat tent and coffee carts, a treat trolley that went around clinical areas, and treat packages sent to colleagues working at home
Daily email and WhatsApp messages to all colleagues throughout the fortnight
Dedicated external webpage that was accessible anywhere during the fortnight and which included timetables of the weeks, thank you e-cards for colleagues to send to each other and manager materials to support them to thank their teams
Social media messages including the hashtag #SheffChildrensThankYou
An extra day's leave – called a CARE day – for every colleague to take during the 2022/23 financial year. CARE are our values – Compassion, Accountability, Respect and Excellence
Tailored thank you e-card messages for our patients and families/carers, The Children's Hospital Charity and our partner organisations via our Twitter profile.
Colleagues made more than 6,500 visits to the Thank You Fortnight webpage throughout the campaign, which equated to more than two visits per colleague! People downloaded our fortnight schedule over 4,500 times and more than 1,600 thank you e-cards were downloaded.
Sheffield Children's will find out whether they have won at the online awards show on Thursday 15 September.
The NHS Communicate Conference and Awards is delivered in partnership with NHS Providers, NHS Confederation and the Centre for Health Communications Research (CHCR).